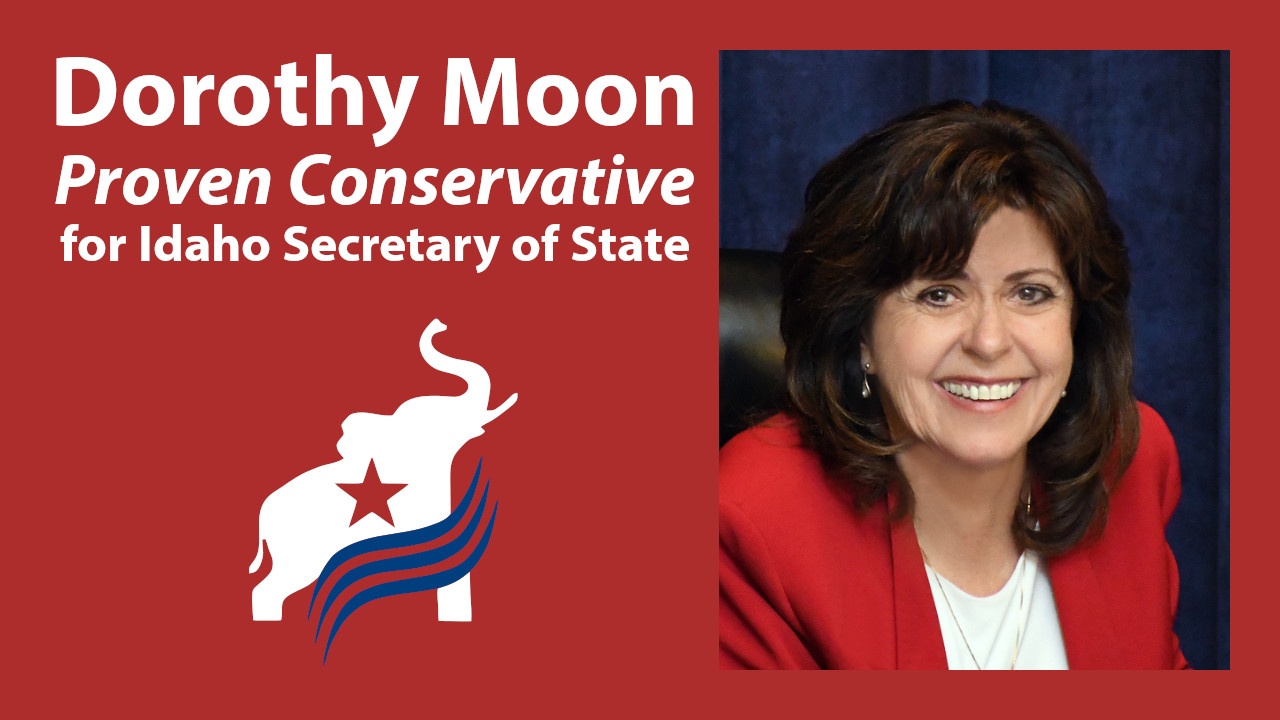 America's system of free and fair elections is under attack, and that threatens the continued existence of our Republic!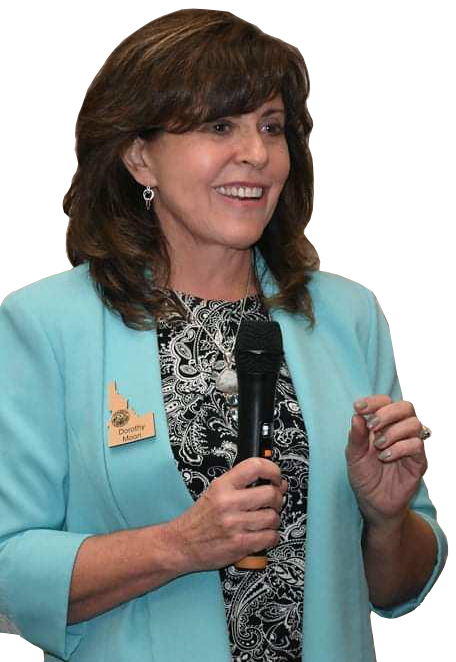 At the same time, our state's entire economy is weighed down by federal land mismanagement.
For these reasons, I am asking you for your support as I seek the Republican nomination for Idaho Secretary of State.
It has been an honor to represent the hard-working people of rural Idaho, promoting our shared conservative values, in the state Legislature. There are great men and women in Idaho's heritage logging, ranching, mining and recreation industries, and serving as their voice in that role has driven me to have their backs.
I believe my legislative work, education career, business acumen and life experiences have uniquely qualified me to serve Idaho as your next Secretary of State. And no one can question my commitment to conservative principles.
My home is up the Yankee Fork of the Salmon River east of Stanley where I live with my husband Darr, a professional engineer, land surveyor and geologist. I am also a proud mother of two hardworking adult sons.
Learn More About Dorothy Moon…
I have spent most of my professional life as an educator and business owner. With a Bachelor of Science degree in Secondary Education and a Master of Science degree in Resource Planning, my skill set is solid and tested.
For the past 27 years, I have served as President of Moon & Associates Inc., a civil engineering and land surveying business. As such, I've had the opportunity to meet people from across the state who have a stake in the development of small businesses and large industries in Idaho. Small businesses are the economic heartbeat of Idaho, and I intend to keep them whole and prosperous.
An important duty of Secretary of State is to sit on the Idaho Land Board. With a majority of Idaho's lands federally managed, opportunities for our children to return to their rural homes are becoming increasingly limited. Idaho needs a leader who is willing to stand up to the Feds and demand an end to smoke-filled summers and idled natural resource jobs.
With abundant resources, Idaho's future can remain bright, affording economic prosperity, clear skies and clean water for all.
I also know what must be done to make sure no one will ever be able to interfere with our elections.
I hope to continue working hard for you as Secretary of State ensuring fair and free elections, business opportunity and as a member of Idaho's Land Board. I appreciate your support and vote!
Rep. Dorothy Moon
The Issues
Election Integrity
Ensuring election integrity is the foundation of our Republic.
Read More…
When public confidence is in doubt our society as we know it is in jeopardy. Everything from voter identification to purging voter data bases of inactive voters is on the table of concerns that must be addressed. We must restore faith in our election systems so Idahoans can enjoy the blessings of our precious Republic.
Business Services
Effectively serving Idaho's business community is key to maintaining a strong community.
Read More…
Easy access to the Secretary of State website in necessary to the efficient transaction of business. Filing business forms, registering trademarks and offering notary services are a few of the office's essential services available. I have been President of an Idaho corporation and I am very familiar with filing requirements for Idaho small businesses.
Endowment Lands
Protecting our forests through wise management and productive stewardship is critically important.
Read More…
The economic viability of our endowment lands to fund Idaho schools is a continuing paramount priority. We must endeavor to provide the highest economic sustainable returns to support our children. State involvement in the management of Idaho's federal lands could benefit schools and county services through the Good Neighbor Authority. All effort should be made to maintain resilient forests on all lands within the state, protect Idaho's water and provide abundant habitats for our diverse wildlife communities.
Click the button below to Donate!
Donate with a debit or credit card. A PayPal account isn't required.
Physical donations may be mailed here:
Dorothy Moon
4575 Jordan Creek
Stanley, ID 83278
---
Have questions or want to volunteer?
Please fill out the form below.
---
Copyright © 2016-2022 | Paid for by the Committee to Elect Dorothy Moon; Vicki Keen, Treasurer | Donate